The last couple of weeks have been pretty crazy for me, both at work and home, so that is why i havent been able to post much recently. Anyway, over the past few weeks i have gotten into a few conversations where people have asked me about all this disruption that is going on. And that was further highlighted over the weekend, at the pub, when a mate spoke about the disruption caused by the NHS cyber attack. This got me thinking about disruptive innovation, a topic i have blogged about in the past, and so i started looking around for some interesting infographics – here's what i found:

1. Disruptive Innovation – Clayton Christensen
Clayton Christensen was the chap who coined the term "disruptive innovation", and we start with his explanation first. In short, Clayton explains that new entrants start at the bottom with a small often ignored customer base, simple and affordable products and eventually start to grow and compete directly with larger and more established companies.
One interesting distinction that i noted, from Innosight, is that incumbents influence and shape existing markets, whereas new entrants look to transform existing markets and create new ones.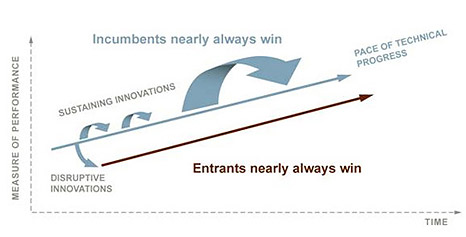 2. Sustaining Innovation versus Disruptive Innovation
This next LinkedIn article nicely summarises the difference between the 2 types of innovation:

3. An Evolving "Wheel of Disruption"
Brian Solis formulated the Wheel of Disruption during 2009-2012, and a second version a couple of years later. At the heart of the Wheel of Disruption is the Golden Triangle, which indicates 3 disruptive trends: real time, mobile and social media. The Wheel of Disruption continues to change, this is well worth a look: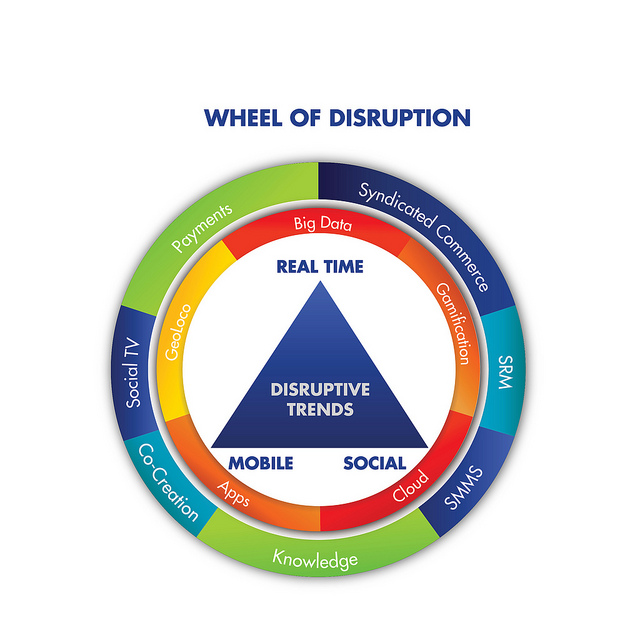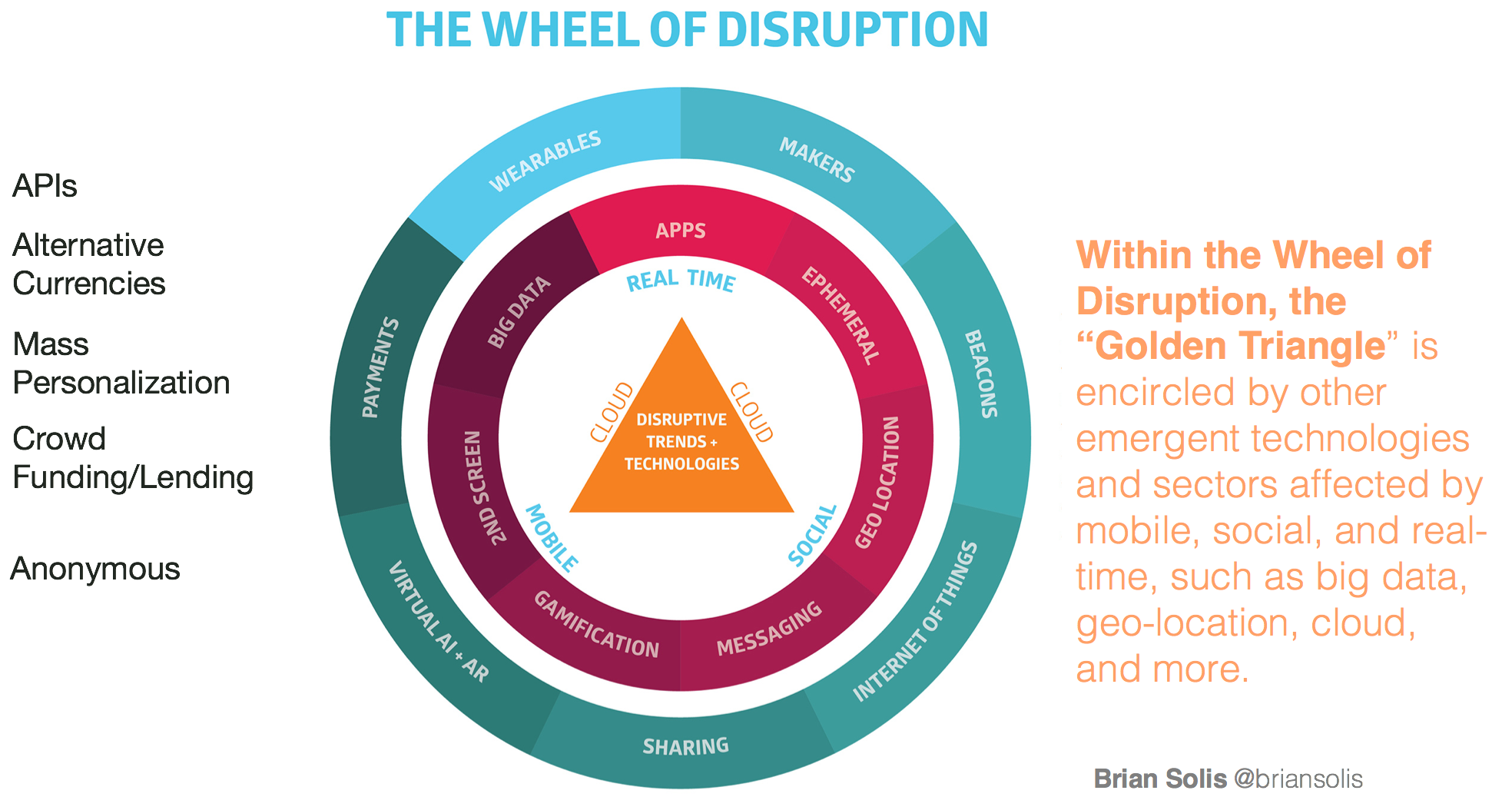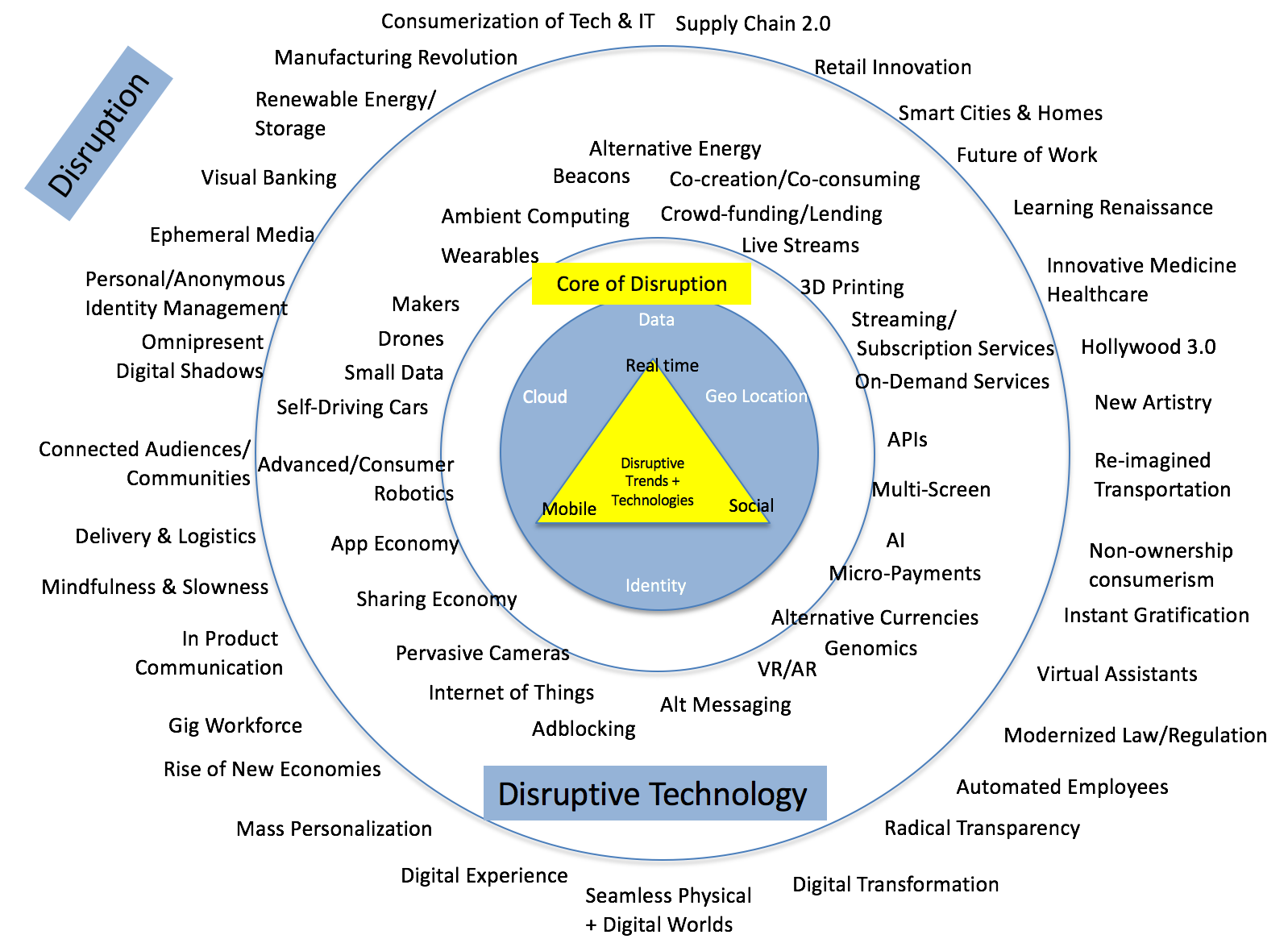 4. 5 Stages of Disruption
Disruption Hub share their 5 Stages of Disruption model, starting with the appropriately named Kodak Moment -> the Growth of the Internet -> Disruptive Business Models -> IoT and AI -> The Adoption Curve. The team that these 5 stages are being seen across multiple sectors…

5. Disruption through the Ages
Next up is an article by Meliorate, in which the guys nicely outline the dominant phases from 1960 to the present. We're now in the Age of the Customer – what is the next Age…?

6. An Internet Minute
This is just mind-boggling, and just goes to show how disruptive the above mentioned technology is and the colossal impact it is having!

7. Another Wheel of Disruption, this time in Financial Services
This one is by the World Economic Forum and brings together the disruptive themes with reference to financial services:

8. Disruptive Companies
Last but by no means least is an infographic with examples of innovative companies from Google to Skype – the short time span that some of these companies have been around and the massive impact they are having on the world is simply incredible